United Moon Forum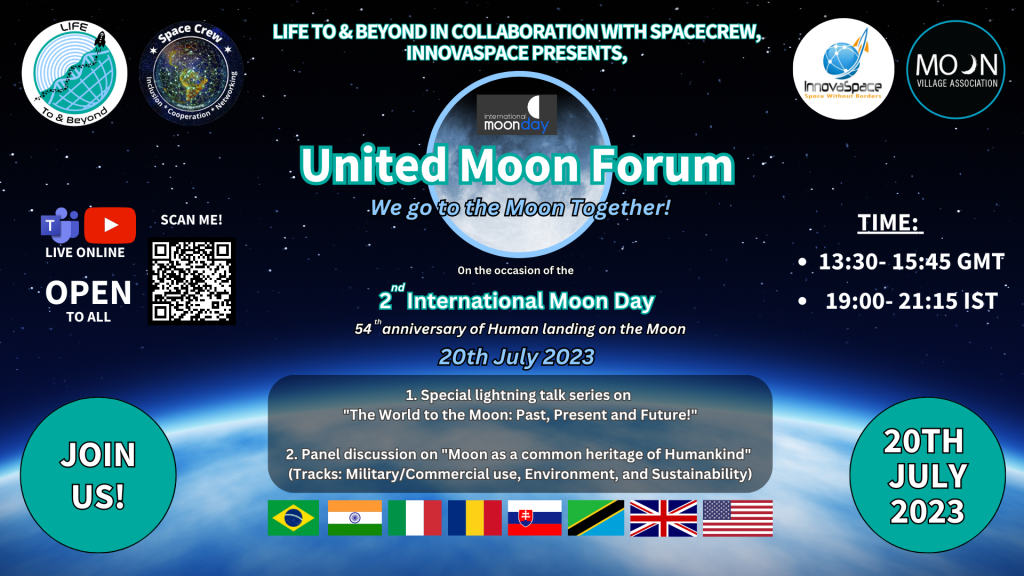 Humans are already multi-continental, now it's time to expand our boundaries to other celestial bodies. After all, we are born to explore! Additionally, for benefits from collaborative and peaceful exploration and sustainability reasons, we must expand beyond Earth. Moon is going to be our 1st bold step in this endless venture.
International Moon Day i.e. 20 July marks the anniversary of the 1st Human landing on the lunar surface as a part of the Apollo 11 lunar mission back in the year 1969. This year we celebrate its 54th Anniversary as a part of the 2nd International Moon Day proposed by the Moon Village Association and officially approved by the UN General Assembly on 9th December 2021. The Human landing on the Moon has, is, and will continue to inspire generations to expand beyond our conventional boundaries.
Today around half a century after the 1st moon landing, many Space stakeholders (public and private alike) can send missions to the moon. To celebrate our New Lunar Journey, LIFE-To & Beyond and SpaceCrew, InnovaSpace jointly is organizing the "United Moon Forum" to celebrate the occasion on the 20th of July 2023 (Timing: 13:30- 15:45 GMT or 19:00- 21:15 IST).
The purpose of the outreach event is to give a glance at the Past, Present, and Future of Lunar exploration. This will help spread the word amongst the people about the activities in the space sector about Lunar exploration globally. Alongside, it will be instrumental in fostering discussion regarding the collaborative and peaceful exploration of our Moon as a common heritage of all of Humankind.
The event format includes a Series of lightning talks, and a panel discussion hosted Online (on the Microsoft Teams Platform and also stream LIVE on the Life To and Beyond Youtube Channel) and Open to global participation. It's a short yet significant step towards proactive and impactful outreach. We are optimistic about 'inspiring the new generation to take up the baton of Human exploration from Earth to the Moon, Mars, and Beyond!'
For more: https://www.lifetoandbeyond.org/united-moon-forum
Report