[Saudi Arabia] The Lunar Calendar
July 20, 2022
@
18:00
–
21:00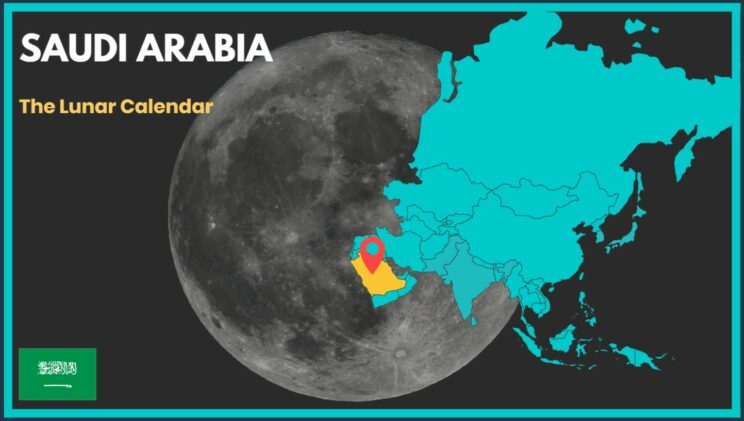 July 20, Online
On the occasion of the International Moon Day, the Saudi Society for Applied Sciences at Princess Nourah bint Abdulrahman University (PNU) will hold a webinar entitled the "Lunar Calendar"

It will be addressed to faculty and students in Saudi universities and schools, and for people of the community interested in the subject.


The Society members who will participate in this event are:
Dr. Amnah Alasgah-Human Economic Geography, Speaker
Dr. Nourah Alhasawi-Islamic Studies, Speaker
Dr. Eman M. Moneer- Astrophysics, Speaker
Dr. Ma'arib Alsahhaf- Theoretical Physics, Moderator
The Lunar Calendar
It should be globally known that Saudi Arabia as it is the leader of the Islamic world officially adopts the lunar calendar. Saudi Arabia uses the Islamic calendar (Hijri) which depends on the lunar calendar to determine the proper days of Islamic holidays and rituals, such as the annual period of fasting and the proper time for the Hajj.
The movement of the Moon called synchronous rotation, means the Moon's orbit is tilted about 5 degrees compared to the plane of Earth's orbit around the Sun. Because of this tilt, the Moon as seen from Earth's perspective usually passes above or below the Sun when it passes between us and the Sun. As a Muslim community it is very important to be more knowledgeable of the lunar calendar that we depend on to practice our Islamic rituals in order to obtain the accurate time of those events.
This webinar can add more knowledge to those who do not know the importance of the lunar calendar, as we see that most people depend on the Gregorian calendar while starting to forget about the lunar calendar. This is a great opportunity to share with all the importance of the lunar calendar in our practical lives. The journey and history of an important figure in Islam, the Prophet Mohammed, peace be upon him, is heavily correlated with the Lunar calendar. Over the years, less and less the lunar calendar has been used. People around the world know little about our calendar, so fostering this event is important for spreading awareness. The Lunar calendar is important in understanding how the rotation of the moon works and why it holds more significant value than the Gregorian calendar for Muslims. The issue is of course controversial, Is the Gregorian more significant than the lunar calendar? However controversial, it is worthwhile, a conversation we must have.
Also the webinar will shed the light on how the effect of the moon reaches the surface of the earth and mankind , as it influences the occurrence of tides and thus its effect on the occurrence of earthquakes, the formation of seasons, the change of climate and the change of the biological clock of human beings , until it has come to the point that human feelings, inclinations and emotions are affected by the change in the phases of the moon, and the situation has reached its impact on the movement and migration of animals.
Report
Presentation