Lunar Spectra: Unveiling the Cosmos – International Moon Day Celebrations in Bangladesh
July 19
@
08:00
–
July 31
@
17:00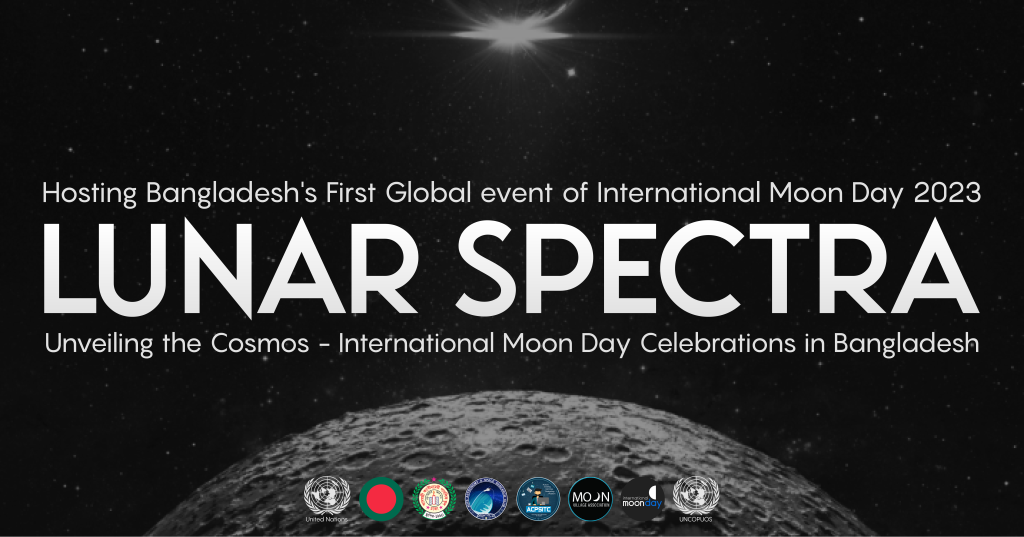 Adamjee Cantonment Public School, renowned for its dedication to both academic excellence and extracurricular activities, houses and numerous clubs that enrich the students' holistic development. One such club is the Adamjee Cantonment Public School Astronomy and Space Research Club, established on November 3rd, 2022, by the visionary minds of Almas Sakib Ovi and others with the invaluable support of passionate teachers. After the initiation of the event, Maqsud Zayan Abdullah, Former President of Adamjee Cantonment Public School IT club Joined ASRCA as the chief advisor to help manage and host the event. At present, the club is steered by a team of 12 talented executive members, in collaboration with dedicated teachers.
This Adamjee Cantonment Public School Astronomy & Space Research Club is not only dedicated to hosting the remarkable 1st ACPS National Astro Carnival 2023, but they are also working tirelessly to establish themselves as a pioneering force in the field of astronomy and space exploration in Bangladesh.
With an unwavering commitment to excellence, the club has earned the distinction of being the first school club in the history of Bangladesh to engage in international collaborations. Their remarkable achievements and contributions have garnered recognition and partnership opportunities from esteemed institutions and organizations across the globe. Through these international collaborations, the club has successfully expanded its horizons, gained invaluable insights, and fostered a spirit of global cooperation in the pursuit of astronomical knowledge.
The Adamjee Cantonment Public School Astronomy & Space Research Club stands at the forefront of promoting a positive image of Bangladesh on an international stage. By establishing meaningful relationships with international counterparts, they have opened doors for cultural exchange, scientific discourse, and collaborative research projects that transcend borders.
Through their dedication, passion, and groundbreaking initiatives, the club aims to inspire not only the students within their school but also aspiring astronomers and space enthusiasts nationwide. Their tireless efforts are fueling a new era of scientific exploration and discovery in Bangladesh.
Adamjee Cantonment Public School IT Club also joins them as the co-host for the event. They are a dynamic organization that operates within Adamjee Cantonment Public School. Its main objective is to foster a love for technology and enhance the technological skills of its members. The club provides a platform for students to participate in various IT-related activities. The club encourages students to explore different aspects of technology through sessions, workshops, and competitions. By organizing events and facilitating hands-on learning experiences, the club aims to develop creativity, critical thinking, problem-solving abilities, and teamwork among its members.
By participating in the 1st ACPS National Astro Carnival 2023, students and participants have the opportunity to witness firsthand the remarkable work undertaken by this extraordinary club. This event serves as a testament to their unwavering commitment to educational excellence, innovation, and the advancement of astronomy and space sciences in Bangladesh.
Prepare to embark on an extraordinary journey through the celestial realms with the Adamjee Cantonment Public School Astronomy & Space Research Club. They proudly present the 1st ACPS National Astro Carnival 2023, the largest online astronomy event in the school category in Bangladesh. Join
them from July 19th to July 25th for an awe-inspiring experience that will ignite your curiosity and take you beyond the limits of our universe.
The 1st ACPS National Astro Carnival 2023 is designed to cater to high school students, as they firmly believe that they are the future of Bangladesh. They aim to make this event accessible to all, regardless of their location or financial constraints. Hence, the entire carnival will be held online, allowing students from every corner of Bangladesh to participate and learn about the vastness of astronomy and space.
This monumental event consists of twenty captivating segments, carefully crafted to nurture a deep understanding of the cosmos while incorporating elements of fun and creativity. Here's a glimpse into what awaits you:
Astronomy Olympiad: Test your astronomical knowledge and compete with the brightest minds in the nation.
Space History Olympiad: Dive into the annals of space exploration and uncover the remarkable achievements of humanity.
Astrophysics Olympiad: Delve into the fundamental laws governing the universe and showcase your grasp of astrophysical concepts.
Earth Science Olympiad: Explore our home planet and unravel its fascinating geological and environmental phenomena.
Lunar Olympiad: Unearth the secrets of Earth's enigmatic neighbor, the Moon, and unlock its mysteries.
Astro Movie Quiz: Immerse yourself in the world of celestial cinema and put your movie knowledge to the test.
General Science Olympiad: Showcase your broad scientific knowledge and excel in a range of scientific disciplines.
IT Olympiad: Demonstrate your prowess in the realm of information technology and its applications in space exploration.
IQ Test: Challenge your intellect and discover the power of your mind in a stimulating IQ assessment.
Space Quiz: Engage in an exciting quiz session solely dedicated to expanding your understanding of the cosmos.
Astral Articulation: Express your thoughts and insights on astronomical topics through eloquent and persuasive speeches.
Extempore Speech: Test your impromptu speaking skills as you tackle space-related topics on the spot.
AstroPhotography: Capture the beauty of the night sky through your lens and showcase your photographic talent.
Celestial Digital Artistry: Unleash your creativity and merge art with the cosmic wonders of the universe.
Poster Designing: Combine your artistic skills with scientific knowledge to create visually stunning and informative posters.
Scientific Meme Fusion: Blend humor and science to create entertaining and educational memes that celebrate astronomy.
Spacey AI Stories: Explore the intersection of space and artificial intelligence by crafting imaginative and futuristic tales.
Astronomical Presentation: Share your insights and discoveries in a captivating and informative presentation.
Google It: Dive into the vast realm of the internet and showcase your research and information-gathering skills.
Workshop: Engage in interactive sessions led by experts in the field, where you can learn and explore diverse astronomical topics.
Registration for this extraordinary event is completely free, ensuring that every passionate student has the opportunity to learn, grow, and be inspired. Whether you are a budding astronomer, a curious mind, or simply someone looking to broaden their horizons, the 1st ACPS National Astro Carnival 2023 welcomes you with open arms.
Join us on this cosmic expedition as we embark on a voyage of knowledge, discovery, and wonder. Together, let us ignite our passion for the cosmos and pave the way for a brighter future, where the boundaries of space are meant to be explored and understood.
Mark your calendars and get ready to embark on an unforgettable astro-adventure! The 1st ACPS National Astro Carnival 2023 will culminate in a grand prize-giving ceremony during the last week, where the exceptional achievements and dedication of participants will be celebrated.
For more information and registration, visit our facebook page:
https://www.facebook.com/profile.php?id=100088032657106
and prepare to unlock the secrets of the universe like never before.
Let the 1st ACPS National Astro Carnival be the catalyst that propels you towards the stars and beyond!