[Brazil] The New Race to the Moon and the unprecedented Brazilian engagement: A Landmark for our History
July 19, 2022
@
14:00
–
17:00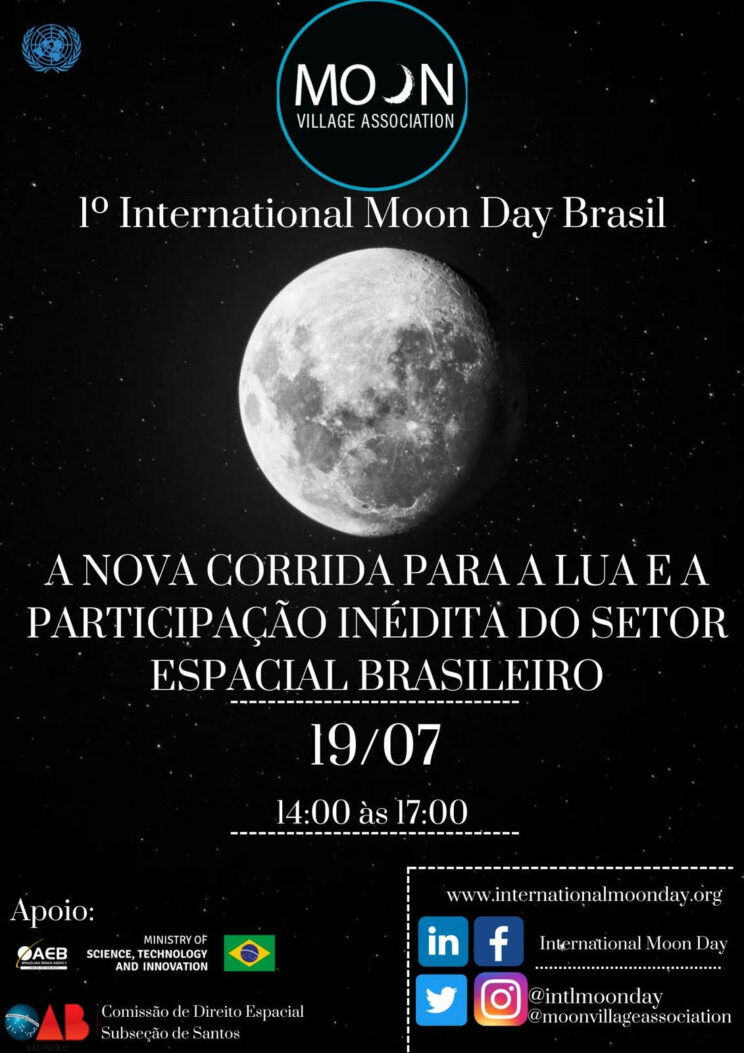 July 19, Online
Event Title: A NOVA CORRIDA PARA A LUA E A PARTICIPAÇÃO INÉDITA DO SETOR ESPACIAL BRASILEIRO
(THE NEW RACE TO THE MOON AND THE UNPRECEDENTED BRAZILIAN ENGAGEMENT)
Date/Time: July 19, 2022 / 2 pm – 5 pm BRT
Language: Brazilian Portuguese
An outreach event, to get Brazilian society to know more about the new race to the Moon and how Brazil is preparing to engage in it, through engineering projects, partnerships, and international cooperation.
The event will debate how challenging it is for humanity to go back to the Moon, and that cooperation and coordination are key for enabling current and future missions to take place and achieve their ambitious goals in a safe, peaceful, and sustainable manner.
The event is supported by the Brazilian Space Agency.
Program:
Moon Village Association and the 1st International Moon Day
Speaker: Suyan Cristina Malhadas – Brazilian National Coordinator of the Moon
Village Association, Member of the International Institute of Space Law (IISL).
NASA's Artemis Program
Speaker: Luis Eduardo Vergueiro Loures da Costa – Head of the Department of
Aerospace Systems at the Technological Institute of Aeronautics (ITA).
The Brazilian Framework for the Artemis Accords
Speaker: Rodrigo Leonardi – Technologist and Coordinator of Research,
Development and Innovation in the Brazilian Space Agency (AEB).
Garatéa Mission and Lunar Exploration
Speaker: Lucas Fonseca – CEO at Airvantis, Stratolit and Board of Garatéa, Member
of the Space Law and Policies Research Group of the Catholic University of Santos.
Host: Bianca Ramalho – Moon Village Association/ Catholic University of Santos

Moderator: Thaís Zandoná – Moon Village Association/ Catholic University of Santos

Debaters:
Natalia Rosa Oliveira (Space Law Commission of the Brazilian Bar Association in Santos/ Catholic University of Santos)
Marina Lima (Brazilian Space Startups Alliance/ Catholic University of Santos)
Watch on Youtube
Organisers:
Suyan Cristina Malhadas (National Coordinator – Moon Village Association/ Catholic University of Santos),
Marina Huidobro (President – Space Law Commission of the Brazilian Bar Association in Santos/ Catholic University of Santos),
Ian Grosner (Brazilian Space Agency/ Catholic University of Santos),
Natalia Rosa Oliveira (Space Law Commission of the Brazilian Bar Association in Santos/ Catholic University of Santos),
Thaís Zandoná (Moon Village Association/ Catholic University of Santos),
Marina Lima (Brazilian Space Startups Alliance/ Catholic University of Santos),
Bianca Ramalho (Moon Village Association/ Catholic University of Santos)