[Brasil] 2nd Cabo Frio Astronomy and Astronautics Meeting
July 16, 2022
@
19:00
–
21:00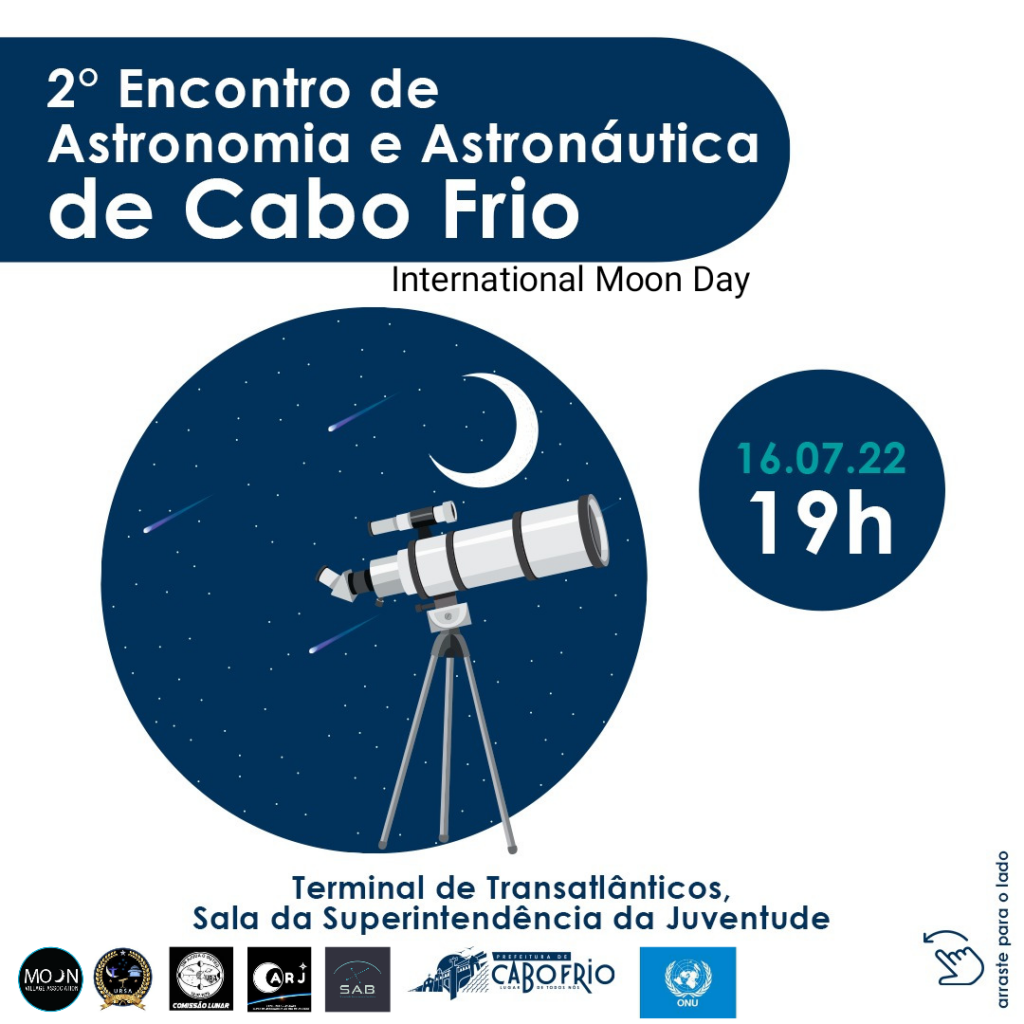 July 16, In Person
Time: 19:30 Brasilia time
The 2nd Cabo Frio Astronomy and Astronautics Meeting will take place as part of the International Moon Day program of the Moon Village Association.

In Cabo Frio, the event alluding to the 53rd nniversary of the arrival of man on the moon will be celebrated on July 16, with lectures by amateur astronomer Wagner Sena and Astronaut Analogue Caroline Lanzieri, in addition to observing the moon with a telescope built with recycled material. The event is organized by the Lunar Commission of the Brazilian Astronomy Union and will have the support of the Municipality of Cabo Frio, through the Deputy Secretary of Science and Technology and the Youth Superintendence.
2° Encontro de Astronomia e Astronáutica de Cabo Frio – International Moon Day
Vai acontecer o 2° Encontro de Astronomia e Astronáutica de Cabo Frio como parte da programação do International Moon Day da Moon Village Association. A Moon Village Association apresentou um pedido durante a 64ª Sessão do Comitê das Nações Unidas para o Uso Pacífico do Espaço Exterior, para a proclamação do Dia Internacional da Lua em 20 de julho, aniversário do primeiro pouso humano de 1969, dos Estados Unidos da América, com a missão Apollo 11. A proclamação foi aprovada em 9 de dezembro de 2021, pela Assembleia Geral da ONU.
Em Cabo Frio, o evento em alusão aos 53 anos da chegada do homem a lua será comemorado no dia 16 de julho, com palestras do Astronomo Amador Wagner Sena e da Astronáuta Análoga Caroline Lanzieri além da observação da lua com telescópio construído com material reciclado. O evento é uma realização da Comissão Lunar da União Brasileira de Astronomia e contará com apoio da Prefeitura Municipal de Cabo Frio, através da Secretaria-adjunta de Ciência e Tecnologia e da Superintendência da Juventude.
Acontecerá as 19:30 horário de Brasília.
Photos from the Event