[Australia] The (Re)birth of Australia in Space: Towards Sustainable Lunar Exploration 
July 20, 2022
@
20:00
–
22:00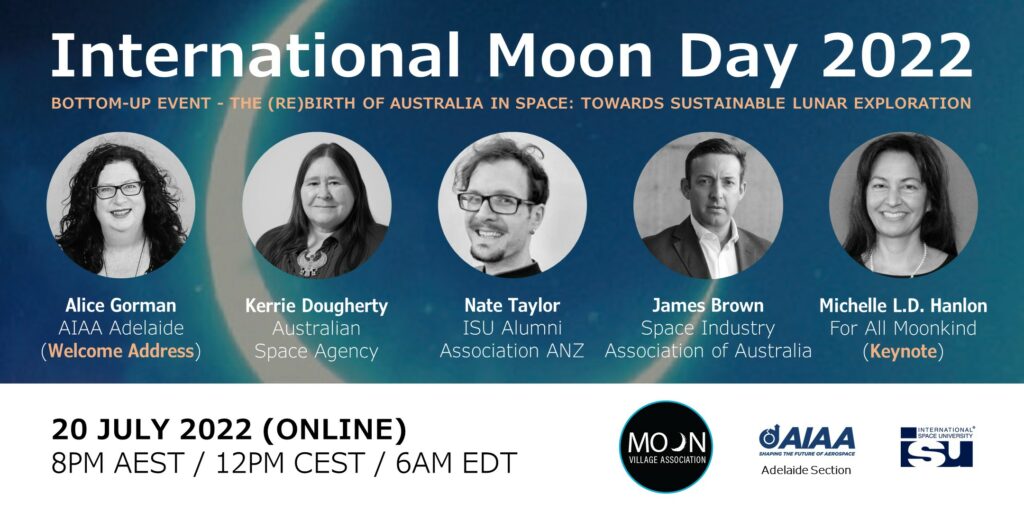 July 20, Online
Details
20 July 2022
8-10PM AEST / 12-2PM CEST / 6-8AM EDT
Online Event
Registrations (free): https://www.eventbrite.com/e/the-rebirth-of-australia-in-space-towards-sustainable-lunar-exploration-tickets-383354653087
Organisers: American Institute of Aeronautics and Astronautics (AIAA) Adelaide Section and Moon Village Association (MVA)
"That's one small step for man, one giant leap for mankind". These words mark the most humanity-defining moment in history. Better yet, Australia played a key role in beaming images back to households around the world of this momentous occasion.
The United Nation's approval of the proclamation to celebrate the anniversary of the first human landing on Moon via the Apollo 11 mission, now known as International Moon Day, is the event to mark all Space events for Australia, as it looks to go to the moon for the first time, no earlier than 2026 through the development of a Foundation Services Rover.
Australia's opportunity to 'visit' the Moon in years to come not only highlights a capability the nation is investing in, but also the uplift in inspiration this will have amongst the entire space community – irrespective of age, gender, religion, or other backgrounds.
To help celebrate this momentous occasion, we have enlisted a star line up of emerging and established professionals across Australia, and from the United States. Targeting future and emerging Space industry professionals, uniting on the 20th of July 2022 at 8pm AEST, we will look to showcase where Australia has come, where Australia is heading, and what value Australia can bring to the international stage.
Youtube stream
Program
| | |
| --- | --- |
| 8.00pm–8.05pm | Dharshun Sridharan (MC), Australian Coordinator, Moon Village Association Introduction to the International Moon Day |
| 8.05pm–8.10pm | Alice Gorman, AIAA (American Institute of Aeronautics and Astronautics) Adelaide Kaja Antlej and Daniele Dallari, AIAA Members Welcome Addresses |
| 8.10pm–8.20pm | Kerrie Dougherty, OAM, Senior Operations and Program Officer, Australian Space Discovery Centre, Australian Space Agency Partners in Space: Australian Involvement in Lunar Exploration |
| 8.20pm–8.30pm | Nate Taylor, Founding Member and Treasurer, ISU (International Space University) Alumni Association Australia & New Zealand Becoming Lunar: Beyond Australia's Footprint |
| 8.30pm–8.40pm | James Brown, Chief Executive Officer, SIAA (Space Industry Association of Australia) Emerging Space Industry in Australia |
| 8.40pm–9.10pm | KEYNOTE: Michelle L.D. Hanlon, Co-founder, For All Moonkind, President of the National Space Society Protecting Historic Achievements as a Foundation for Lunar Governance |
| 9.10pm–10.00 pm | Networking (Facilitated by Summer Russell, AIAA Member) Thematic Breakout Rooms |
Speakers
Kerrie Dougherty, OAM, IAA
Kerrie Dougherty is Senior Heritage and Outreach Officer for the Australian Space Agency's Inspire Program, focussed on promoting awareness of Australia's past, present and future in space and encouraging interest in STEM and space careers. An elected Member of the International Academy of Astronautics, Kerrie is a space historian, curator, educator and author and serves on several international committees on space history, space education and space museums. She also lectures in Space Humanities at the International Space University. In 2020 she was awarded a Medal of the Order of Australia for her contribution to astronautics as a curator.
Partners in Space: Australian Involvement in Lunar Exploration
When Neil Armstrong set foot on the Moon in July 1969, an estimated global audience of 650 million watched the event live, those historic images received from the Moon and broadcast to the world from Australia. As host nation to the to the largest number of NASA tracking stations outside the US, Australian support for lunar exploration commenced with the early robotic explorers and continues to this day. Australian researchers also made important contributions to the Apollo Moon program. This presentation will provide a historical perspective on the Australian contribution to lunar exploration and its future role in the Artemis program.
Nate Taylor
Nate is a graduate in Applied Physics and Mathematics from the University of South Australia, as well as an alumnus of the International Space University. He works as a Senior Programs and Operations Officer at the Australian Space Agency's Australian Space Discovery Centre and is a founding member of the ISU Australia and New Zealand Alumni Association. Nate describes his own career pathway as an n-body problem; n>3, having previously worked in a plethora roles ranging from carnival hand, to finance manager before finally completing a burn towards the space industry after discovering his own desire to create moments where the wonder and potential of the cosmos are reflected in the eyes of others.
Becoming Lunar: Beyond Australia's Footprint
When you think of Australia and the Moon, what comes to mind? Fifty three years ago, Australia played a crucial role in bringing to the world one of the most historic and awe inspiring images of all time as Neil Armstrong descended the ladder of the Apollo 11 Lunar Module, bringing to life Russian space pioneer Konstantin Tsiolkovsky's belief that Humanity cannot remain in the cradle of the Earth. But Australia's role in lunar activities is far from being relegated to the past, and Tsiolkovsky's prediction that our moral and ethical sense will be elevated by expanding into space, is yet to be realised. Cue, Artemis. NASA's Artemis Programme aims to establish a permanent human presence on the Moon by the end of the decade, but this time, an invigorated and robust Australian space industry is not only primed to go along for the ride, but to forge ahead beyond Australia's footprint.
James Brown
James Brown is the CEO of the Space Industry Association of Australia (SIAA), Australia's peak body for the space economy. A national security and public policy expert, he has previously held research appointments at the Lowy Institute for International Policy, United States Studies Centre, and the University of Sydney. He is currently a Non-Resident Fellow at the United States Studies Centre, Chairman of the charity Veteran Sports Australia, and a strategic adviser to the University of Technology Sydney. Between 2017 and 2019 James led the rebuilding and modernisation of Australia's largest veteran's organisation, the RSL, as its youngest ever elected President. He served on the board of the Sydney Invictus Games and led the campaign to establish the National Commission for Defence and Veteran Suicide Prevention. He is a former Army officer with service in Iraq, Afghanistan, and the Solomon Islands. James is a regular media contributor on foreign policy and defence issues and has authored two books on Australian defence policy. He is based in Sydney.
KEYNOTE: Michelle L.D. Hanlon
A space lawyer, Michelle is Co-Director of the University of Mississippi's Air and Space Law Program and Editor-in-Chief of the Journal of Space Law, the world's oldest law journal dedicated to the legal problems arising out of human activities in outer space. She is a Co-Founder and President of For All Moonkind, Inc., a nonprofit that is the only organization in the world focused on protecting human cultural heritage in outer space. For All Moonkind has been recognized by the United Nations as a Permanent Observer to the United Nations Committee on the Peaceful Uses of Outer Space.
Protecting Historic Achievements as a Foundation for Lunar Governance
The 1967 Outer Space Treaty and its progeny contain many gray areas, gaps and even internal inconsistencies. The lacuna generates much uncertainty regarding State and private rights in respect of lunar activity. As humanity prepares to return to the Moon, conflict feels inevitable. Increased activity will test the principles of the Outer Space Treaty and particularly challenge its gaps and inconsistencies. This presentation will show that the best way forward is to look to the past and recall our kindred moments. Recognizing and protecting cultural heritage in outer space is the foundational step to successful and sustainable lunar governance.