2nd PromoMoon Initiative Closing Session
July 18
@
15:00
–
17:00
CEST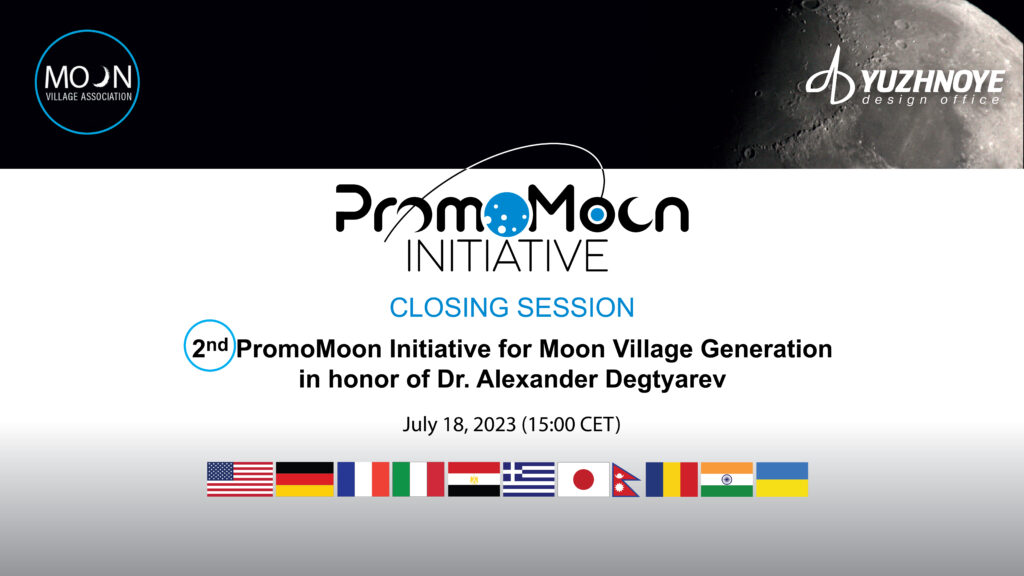 The Moon Village Association and Yuzhnoye State Design Office cordially invite you to join us for the Closing Ceremony of the 2nd PromoMoon Initiative for Moon Village Generation, honoring the esteemed Dr. Alexander Degtyarev. The event will be held on July 18, 2023, on the eve of the International Moon Day, and will be live-streamed on YouTube.
The Closing Ceremony marks the culmination of the PromoMoon Initiative, where the winning teams will have the opportunity to showcase their projects to a global audience and receive invaluable feedback and suggestions from distinguished leaders in the space industry.
The PromoMooon-2023 Top-7 Finalists:
https://moonvillageassociation.org/announcement-2nd-promomoon-initiative-announces-first-stage-results/
The PromoMooon-2023 Top-3 Winners:
https://moonvillageassociation.org/announcement-of-winners-2nd-promomoon-initiative-in-partnership-with-yuzhnoye-state-design-office/
The winners have been granted support for their research through free-of-charge expert B2B mentoring sessions, which were held from July 11 to July 13, 2023. Furthermore, all three finalists have been given the opportunity to co-author and showcase their work in a paper that will be presented at the prestigious International Astronautical Congress (IAC) in Azerbaijan in October 2023.
To experience the thrilling atmosphere of the PromoMoon-2023 Closing Ceremony together, please join us at:
The Initiative inspires the Moon Village Generation to develop ideas for future sustainable lunar activities and provides an opportunity to advance their engineering maturity level.
For more information about the Initiative:
https://moonvillageassociation.org/announcement-2nd-pr