2nd International Moon Day Brasil: O Início da Nova Jornada Lunar para a Humanidade
July 21
@
08:00
–
July 22
@
17:00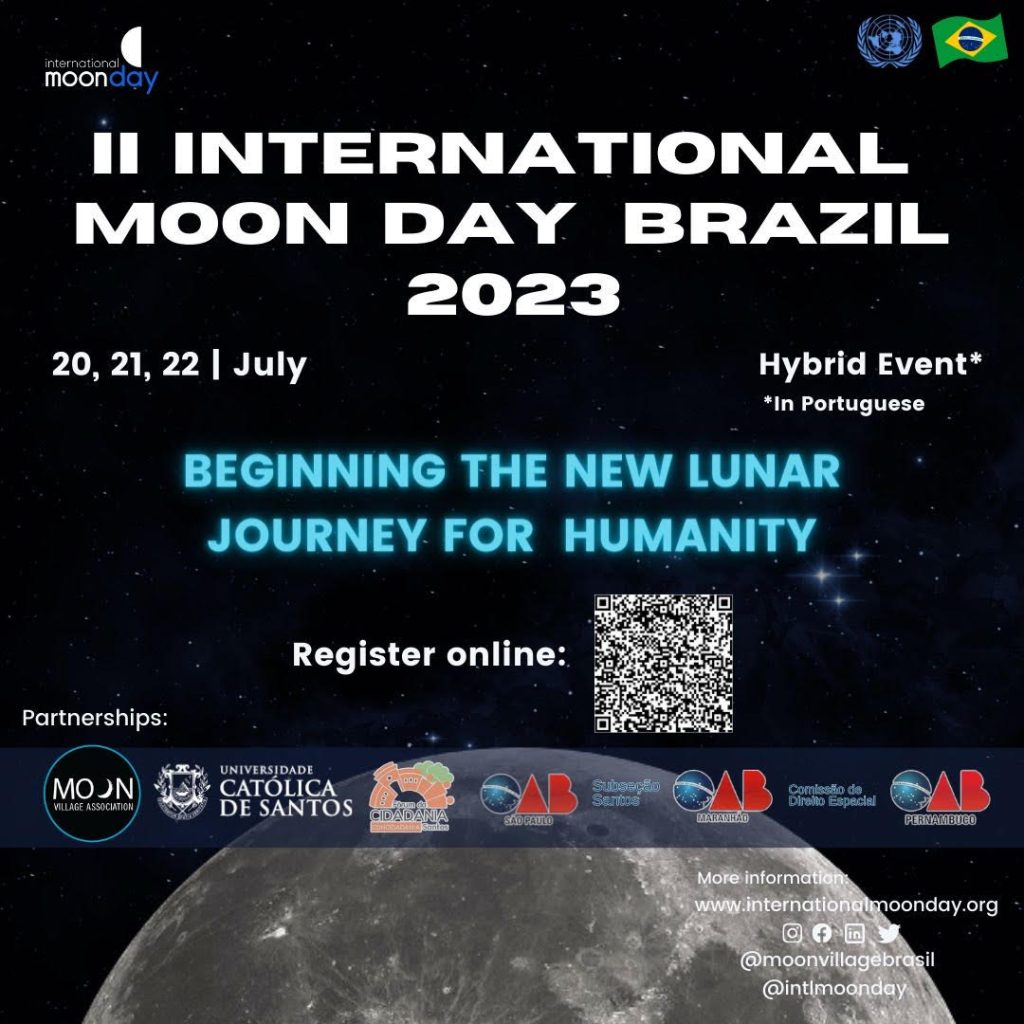 The 2nd IMD Brazil will bring together representatives of the Brazilian Space Agency, civil society, academia and industry to propagate the renewed interest in Moon activities, provide updates about the Brazilian participation and, in particular, hear representatives of the civil society about the importance of the Moon from diverse cultural, artistic and younger generations perspectives, their concerns and expectations. The involvement of the NGO CONCIDANIA ("Conscience for Active Citizenship" in English translation) in the organization of the IMD increases the participation of civil society and will promote a more inclusive and diverse debate.
The II International Moon Day Brasil: Iniciando a Nova Jornada Lunar para a Humanidade will be held in Portuguese on July 20, 21 and 22. This hybrid event will involve government and civil society to promote information, capacity building, reflections on lunar environmental sustainability, cooperation, inclusiveness and benefit sharing.
Program
JULY 20 – Thursday (BRT)
2pm to 2:20pm – Opening
2:30pm to 4pm – Why go to the Moon?
Incredible guests, specialists in aerospace engineering, space medicine, astrophysics, biology, and international affairs will present the benefits of lunar activities to people on Earth and share their experiences with us.
JULY 21 – Friday
10am to 12pm – Brazilian Missions to the Moon
In this panel we will hear great specialists in Brazilian space policy, science, entrepreneurship, and awesome guests from universities and schools, explaining the Moon exploration projects in which they are involved.
5pm to 6:30pm – Space Law and Policy for Lunar Activities
What are the rules regarding space exploration on the Moon? Are there any rights or obligations to ensure safe, peaceful and sustainable lunar activities? We will learn more about it with great Brazilian space law experts.
JULY 22 – Saturday
2pm to 4pm – Sustainability and Inclusiveness
Do you know what is a "space analog mission" or does it sound like something from another planet? This panel will bring wonderful guests to explain what it means, in addition to addressing inclusiveness and diversity in space activities, lunar environmental protections, capacity building, the interests of the new generations, economy, cooperation in science and technology, and how international NGOs are dealing with those issues.
4:30pm to 7pm – Cultural Diversity
Very special guests will share their knowledge on cultural diversity, art, and inspiration, like the Budha'sFull Moon in Asian Culture, the indigenous relation with the Moon, the moon as an inspiration to art, the Moon and the feminine, the lunar influence on cultivation of soil and the mythological value of the Moon.
In person – Cultural Activities Inspired on the Moon
Throughout the event, everyone is more than invited to join our community of Moon enthusiasts and participate in art expositions, Workshops of haikai and visual arts, poetry slam, native and indigenous rituals, meditation, music, dance and games.
Visit @moonvillagebrasil on Instagram for additional information.
Registration
Organisers