[USA] U.S. Space & Rocket Center – Moon Walker Week
July 18, 2022
@
09:00
–
July 22, 2022
@
17:00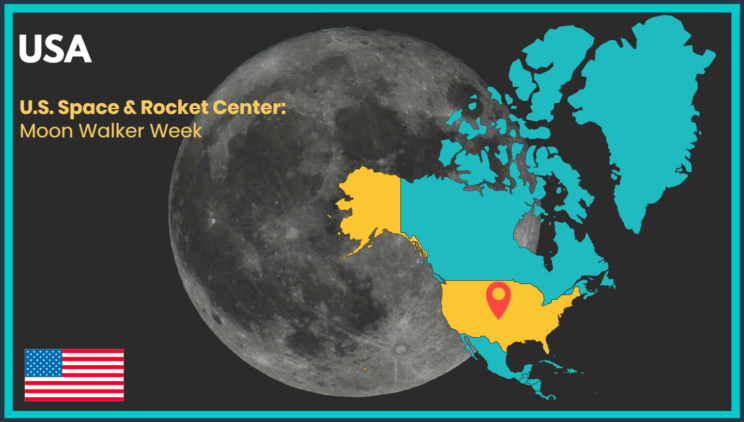 July 18-22, In-Person, Huntsville
Location: U.S. Space & Rocket Center (Huntsville, Alabama 35805)
Date(s) & time: July 18-22 & 9:00 a.m. – 5:00 p.m. Central Time
Website links: www.rocketcenter.com
The U.S. Space & Rocket Center is celebrating the historic achievements of the Apollo program for Moon Walker Week July 18-22. Each day in the Saturn V Hall, we will highlight each crewed Apollo mission with interactive educational activities and explore the Artemis program, NASA's deep space future lunar exploration efforts.
Activities include:
LUROVA Lunar Roving Vehicle Simulation – Drive along the virtual lunar surface and explore the paths driven by the Apollo astronauts during the Apollo 15, 16 and 17 missions.
Apollo 11: Moonboot prints – One small step for man, one giant leap for mankind. Make your mark on history with the iconic Apollo 11 moonboot print!
Apollo 12: Exploring the Universe: Static Electricity – Apollo 12's Saturn V Rocket was struck by lightning at lift off! In this activity, discover how static electricity works by building a simplified tool that detects invisible forces on Earth and in space.
Apollo 14: Mini Moon Golf – Play space golf under the Saturn V Moon Rocket like astronaut Alan Shepard on the Apollo 14 lunar mission!
Apollo 15: Galileo's Hammer and Feather Experiment – Recreate the famous Apollo 15 experiment on Earth just as the Apollo astronauts did on the Moon.
Apollo 16: Lunar Olympics – Pin the legs on the Lunar Module, complete the astronaut gravity toss and see how many orbits you can accomplish with the lunar hula hoop challenge!
Apollo 17: Lunar Geology – Explore the types of rock samples found on both planet Earth and the Moon and discover how Moon craters are formed.