[USA] Moon Runnings: Life & Times of First Jamaican On the Moon
A Futures Memoire Written and Performed by Dr. Claire A, Nelson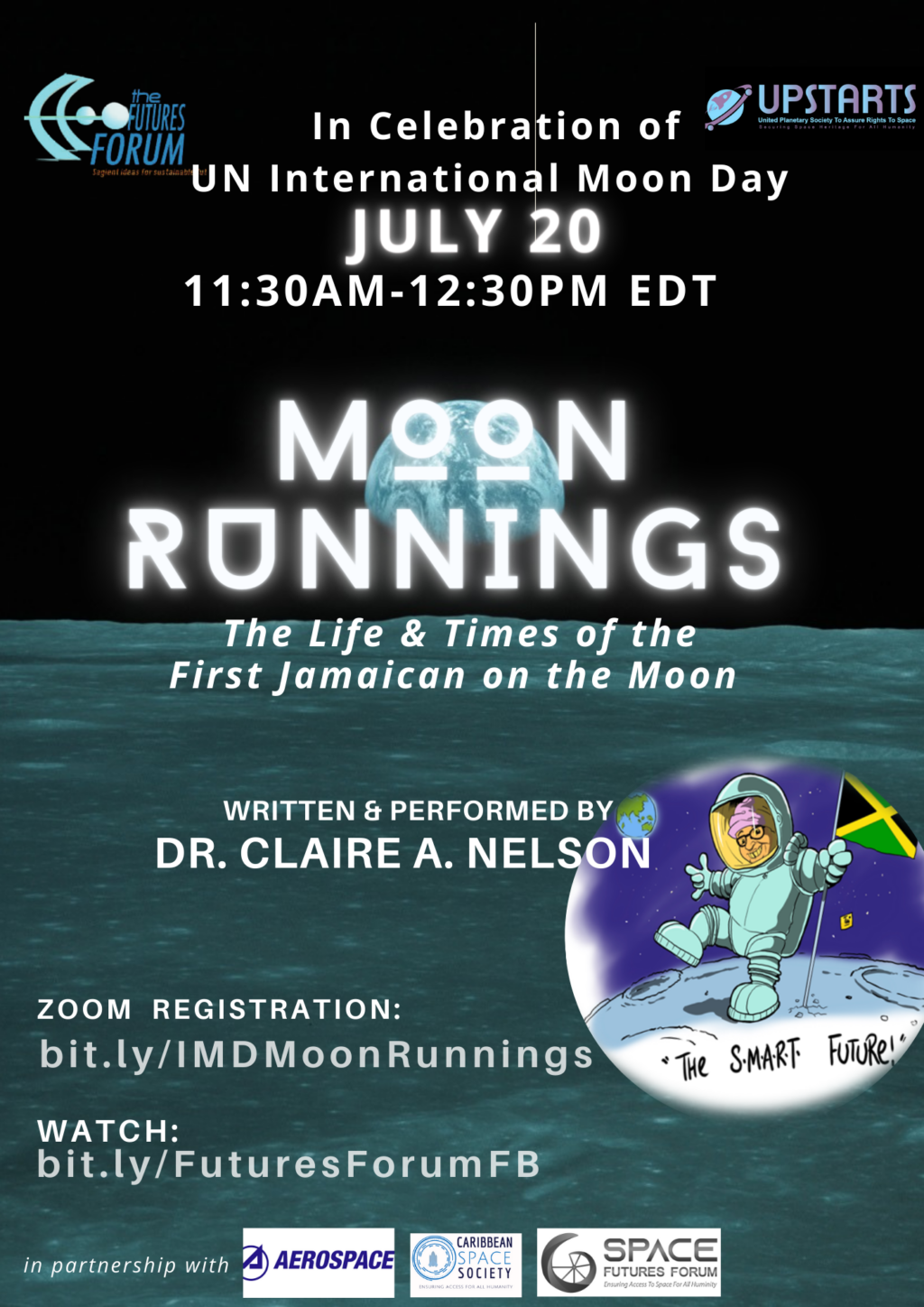 July 20, Hybrid
WHAT?
A One-Woman Storytelling Experience about how LUNARVILLE:JANNALI – The Space Heritage Site on the Moon came into being. The initiative was conceived by the United Planetary Society to Assure Rights to Space – a global organiza tion ignited by passion and led by a group of advocates and actionaries representing the 99 percent of non-billionaire space enthusiasts. Their mission is their vision. Their vision – a Lunar settlement where all are welcome. Ad Luna. Ad Astra. Ad Futura. Space For All Humanity.
WHO?
The Show is aimed at mixed audiences high-school age and above.
WHY?
As humans make preparations for deepening and widening of space exploration, it is vital that we engage people in exploring their assumptions about our futures in space as well as to tell stories that enable the creation of a shared vision for the evolution of human space exploration. With the race on to settle the moon, our nearest satellite, how will we share space? How will we remember go forward in peace? How will meet the future with reverence for our shared heritage in space?
RATIONALE?
Stories are the way humans communicate. Through story we help to create community and shared experiences of our past, present and presence as well as our futures. Through story we attempt create or find common ground. Telling the story of human settlement on the moon from the perspective of a national of a small island nation (JAMAICA) sends an important signal of the need and importance of including all nations big and small in the dialogue about how we share space and the future we want.
Partner: The Aerospace Corporation
Registration link:
https://us02web.zoom.us/webinar/register/WN_OVCw4H50SU23Htcb0zH5dQ
Watch the event: