Thesis Lecture: The Utilization of Lunar Natural Resources by Countries
July 17
@
19:30
–
20:30
WIB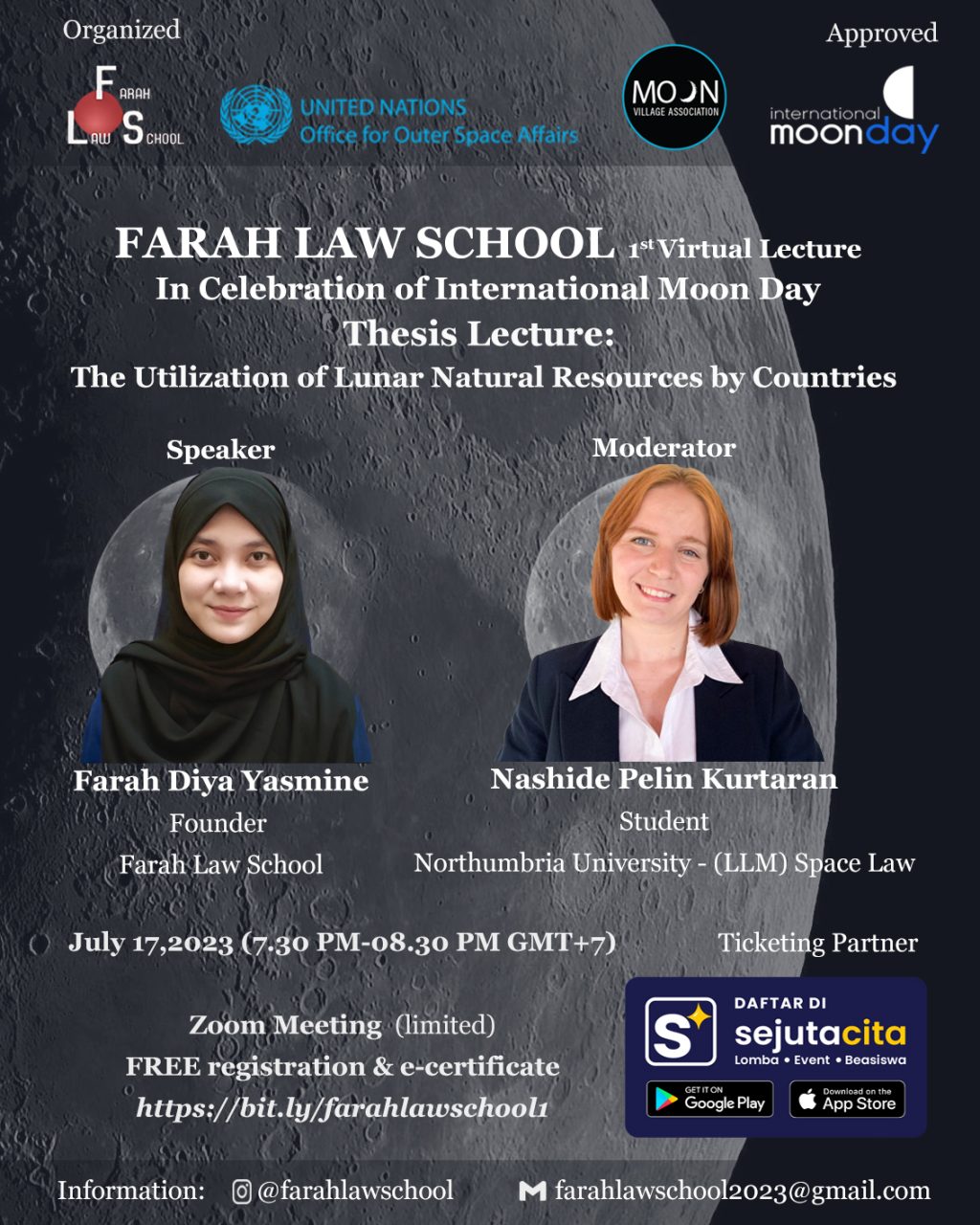 In Celebration of International Moon Day
Approved by the Moon Village Association, in collaboration with the United Nations Office for Outer Space Affairs (UNOOSA)
Presents
Thesis Lecture: The Utilization of Lunar Natural Resources by Countries
Speaker: Farah Diya Yasmine (Founder, Farah Law School)

Moderator: Nashide Pelin Kurtaran (Student, Northumbria University – (LLM) Space Law)

Schedule: July 17, 2023 (7.30pm–8.30pm GMT+7)

Platform: Zoom Meeting (link will be provided through the WhatsApp Group)

Note:
Limited Seat!
Free registration through the Sejuta Cita Application (for Indonesian applicants) and/or Google Form (for overseas applicants)
https://bit.ly/farahlawschool1
Information:
Instagram: @farahlawschool
Gmail: farahlawschool2023@gmail.com
#farahlawschool #internationalmoonday #IMD2023
---
Watch on Youtube
Thesis Lecture: "The Utilization of Lunar Natural Resources by Countries" is a virtual class that will feature a presentation of a thesis written by Farah Diya Yasmine, S.H., who will be the keynote speaker for the event. The lecture is organized by Farah Law School, a newly established educational platform specializing in Space Law, Cyber Law, and Constitutional Law. This virtual event, conducted in English, will be accessible to law students and space enthusiasts worldwide, with a particular focus on Indonesia. It is scheduled to take place on July 17, 2023. The lecture will delve into the normative issues surrounding the common heritage of mankind principle, as outlined in Article 11 of the 1979 Moon Agreement, specifically addressing the utilization of lunar natural resources by countries.
Speaker:
Farah Diya Yasmine is a law graduate from Universitas Trunojoyo Madura, Indonesia. She took an International Law concentration and wrote a thesis on the Utilization of Lunar Natural Resources by Countries. Farah is the founder of Farah Law School, and one of the subjects is space law. Currently, she is a National Point of Contract for Indonesia and an HR Recruitment Team member at the Space Generation Advisory Council. She is an ambassador at the Mars Society and a selected prospective member at the International Institute of Space Law.
Abstract
The use of natural resources expanded into outer space. The progress of space activities has led to initiatives by countries through the United Nations to adopt various international instruments, including the 1979 Moon Agreement. Article 11 of the 1979 Moon Agreement regulates the utilization of lunar natural resources exclusively based on the Common Heritage of Mankind principle. However, it creates multiple interpretations. This study aims to analyze the basis of the obscurity of Article 11 of the 1979 Moon Agreement and the renewal provisions for natural resources on the moon.
This research applied a normative legal method. Besides, it used a statutory approach and conceptual approaches. The data is obtained qualitatively. As a result, Article 11 of the 1979 Moon Agreement contains two conflicting concepts. The norms are blurry, considering not all countries are parties to the agreement. The article only regulates state parties, contrary to the CHM principle that supports countries. Only a few countries carry out activities on the moon. Thus, some provisions in Article 11 of the 1979 Moon Agreement refer to res nullius rather than res communis humanitatis. There are several proposals for renewing provisions for the utilization of the moon's natural resources. The CHM and other terms in the agreement should be defined to avoid dissenting countries' opinions.
Report