Lunar Odyssey Spain: Exploring the Moon and Beyond
July 20
@
10:00
–
14:00
CEST
Lunar Odyssey Spain: Exploring the Moon and Beyond" is an engaging and informative online panel discussion hosted by Mr. Jordi Sandalinas, the MVA National Coordinator for Spain. The event brings together renowned experts, including Professor Julián Chela Flores, Mr. Antoni Paz, Dr. Juan de Dalmau, Mr. Iñigo Muñoz Elorza, Mr. Jordi Sandalinas, and Ms. Silvia Farràs, to delve into various aspects of lunar exploration and utilization. From lunar astrobiology and scientific advancements to legal issues, astronaut training, and mechanical studies, this panel offers diverse perspectives on the Moon's significance and the challenges and opportunities it presents. Join us for a captivating exploration of the Moon and its future role in space exploration and scientific discoveries.
Program
Hosted by the Iberoamerican Institute Air and Space Law (SPAIN – LATAM)
Date: July 20, 2023
Time: 10:00 AM – 14:00 PM
Language of the event: Spanish / English (TBA)
See Jordi Sandalinas' Linkedin siter for more details on each event
https://www.linkedin.com/in/jordisandalinas/recent-activity/events/
Agenda:
10:00 AM – 10:05 AM: Preliminary Opening by Jordi Sandalinas (Event host)
10:05 AM – 10:50 AM: Special Opening Event: Interview of Prof. Julián Chela Flores (Lunar
Astrobiology) conducted by Jordi Sandalinas with Q&R and Debate on Lunar Astrobiology.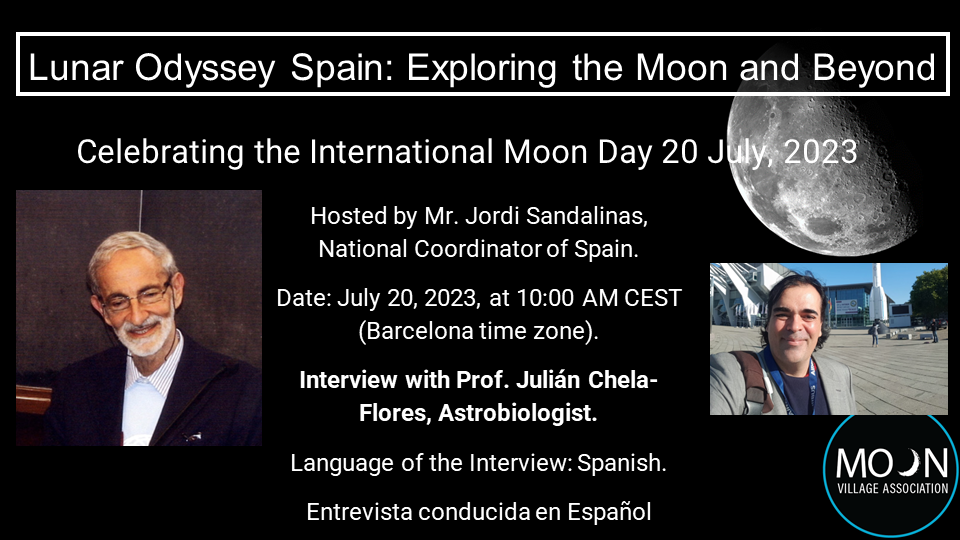 Panel Discussion / Round table:
10:50: – 11:30: Opening by Mr Pablo Navasqüés. Secretary Iberoamerican Institute of Air and
Space Law. Introducing Navigare, a new Journal.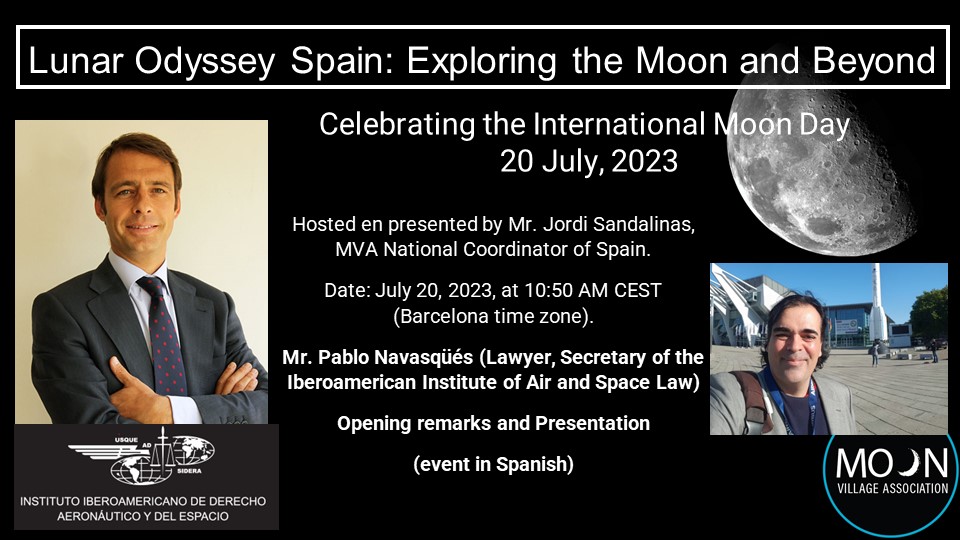 11:30 AM – 12:00 PM: Dr. Juan de Dalmau (Engineer, ISU 1989)
Topic: "Multidisciplinary Event: Is It Better to Leave the Moon Alone?"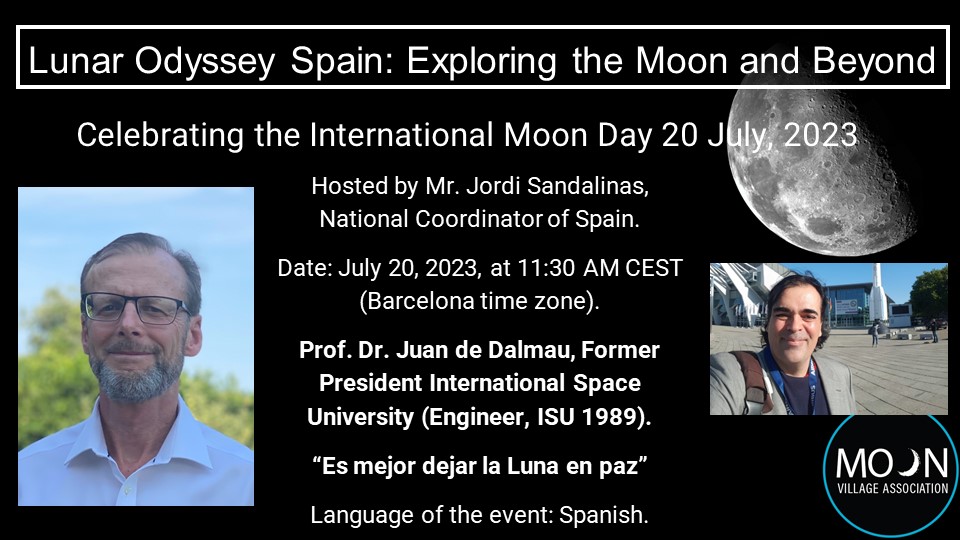 12:00 PM – 12:30 PM: Mr. Iñigo Muñoz Elorza (Astroland, Astronaut Training Center of
Cantabria, Spain)
Topic: "Underground Analog Stations"
12:30 PM – 13:00 PM: Mr. Jordi Sandalinas (Adjunct Professor Space Law)
Topic: "Unleashing Lunar Potential: Navigating the Legal Frontier of Lunar Resource Exploration
and Exploitation under the Artemis Agreements"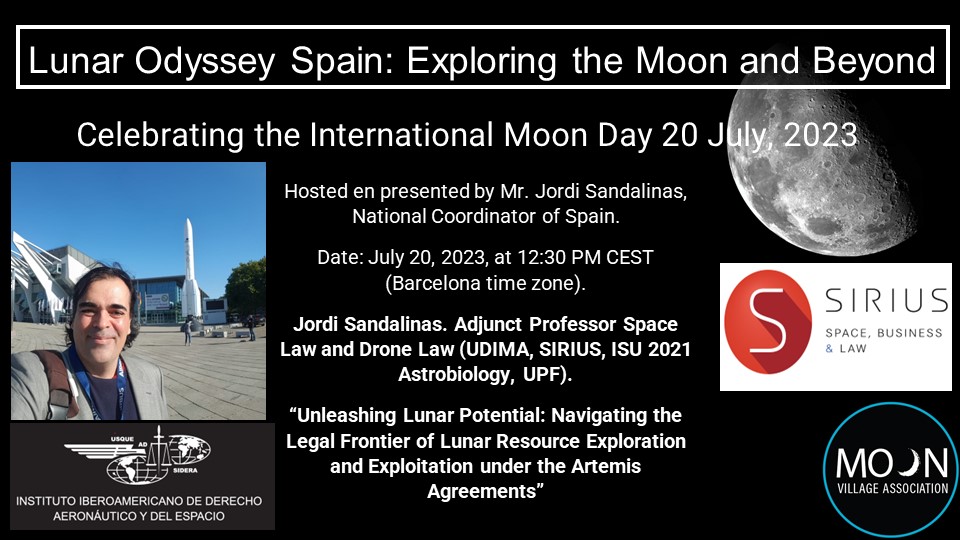 13:00 PM – 13:30 PM: Ms. Silvia Farràs (Mechanical Engineer, ISU 2023)
Topic: "Mechanical Study of a Lander Landing on the Moon with a Telescope"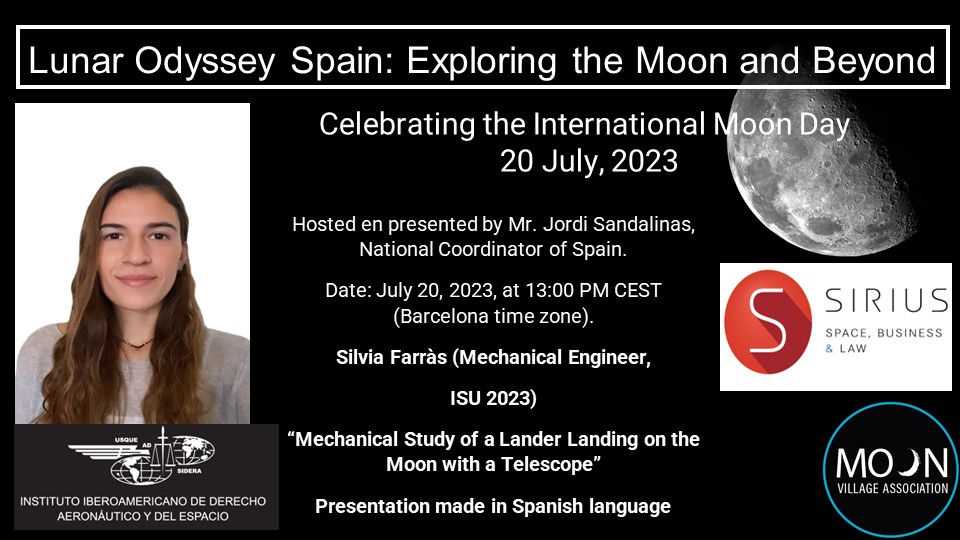 13:30 PM – 14:00 PM: Round table / Closing Remarks by Mr. Jordi Sandalinas
Report