[India] International Moon Day by Hex-Star Universe
July 13, 2022
@
09:00
–
17:00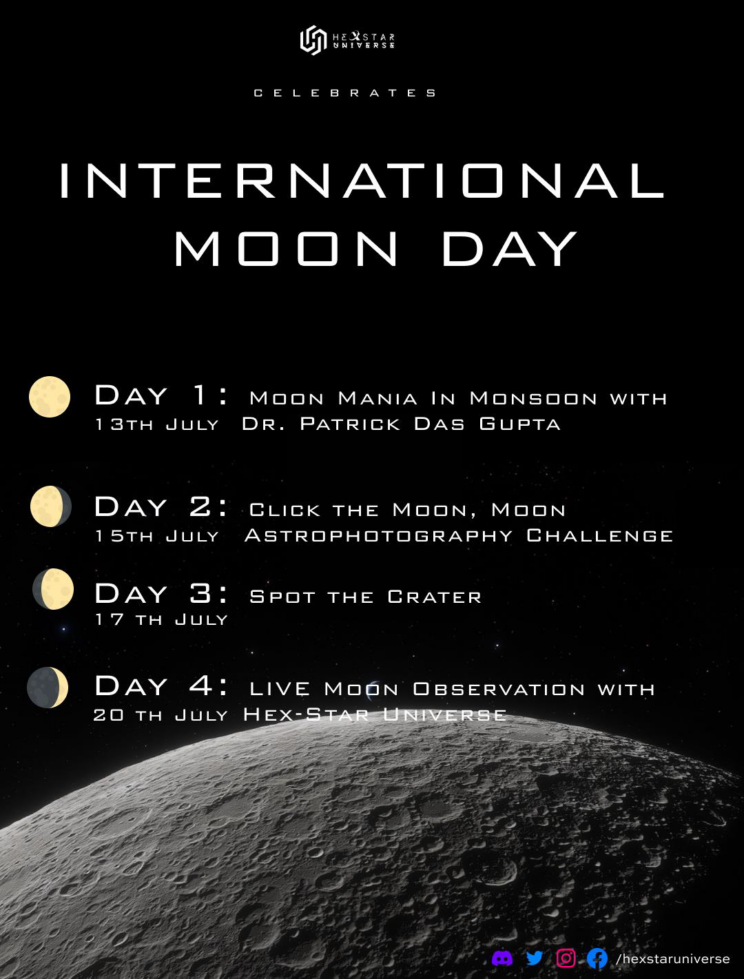 July 13, 15, 17, 20, In Person, Kolkata
This International Moon Day, to celebrate with all you guys, we at Hex-Star Universe have brought to you a series of free, fun and exciting events to bring us close and enjoy together.

These events will be starting on 13th of July 2022, on the International Moon Day itself and continue till 20th of July 2022.

Event Calendar:
Day 1 (13th July 2022): Moon Mania in Monsoon with Dr Patrick Das Gupta.
( A exciting and very informational free live session on YouTube on Moon)

Day 2 (15th July 2022): Click the Moon.
(A free moon astrophotography challenge, where you can send your clicked pictures of Moon and the winner/winners (decided by us) will receive exciting prizes)

Day 3 (17th July 2022): Identify the Crater.
(It is a competition where you have to identify and name the craters from the images provided by us and the winner/ winners will receive exciting prizes.)

Day 4 (20th July 2022): Live Moon Observation with Hex-Star Universe.
(It is a live Moon observation event where you can observe the Moon live
along with us.)

We are arranging these free events so that every student from every part of the world can participate in these exciting events. We are the first from Kolkata to organize such events and we hope to build a community from our strong foundations.