IMD 2023 South Asia Region Event
July 20
@
19:00
–
August 1
@
20:00
IST
Moon Observing Night – July 20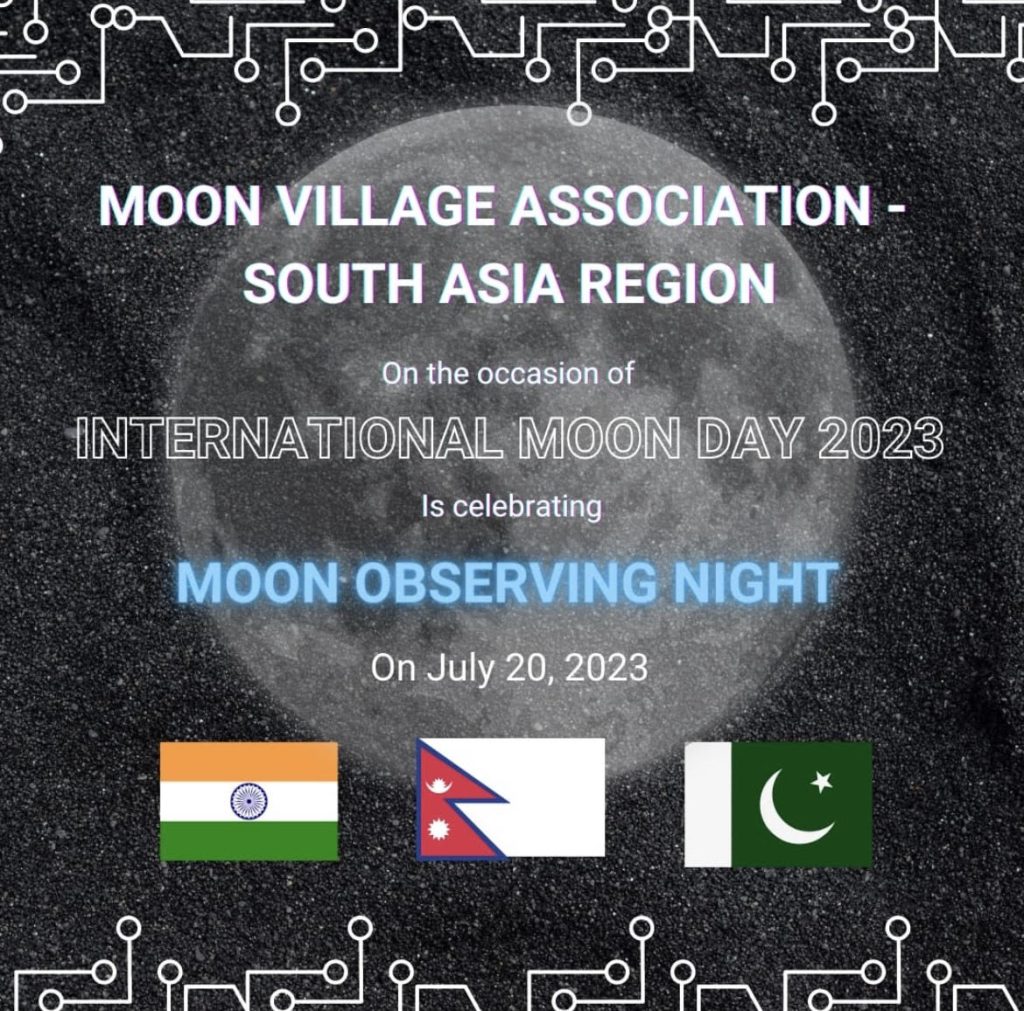 The Moon is the brightest object in our night sky, the second brightest in our daytime sky, and can be seen from all around the world. A first-quarter Moon is great for evening observing as it rises in the afternoon and is high above the horizon in the evening. The Moon Village Association team in the South Asian Region will host moon observation night in different cities of Asia like Mumbai,Tamil Nadu, Bengaluru, Kerala, Pokhara, Lahore, and Karachi in collaboration with local organizations and sponsors to create awareness among students and young professionals on the importance of Moon.
Lunar Talks – July 27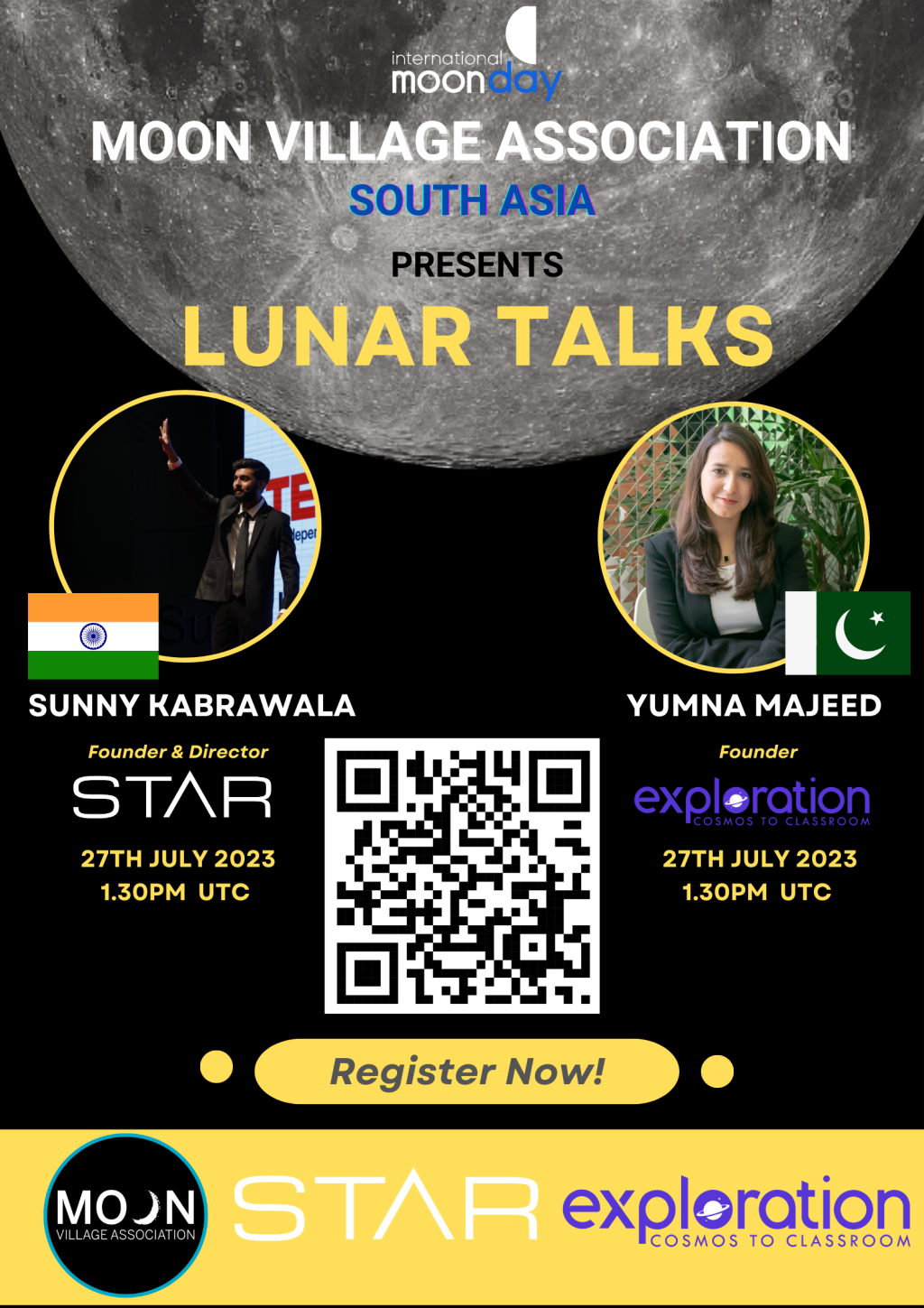 The theme for the Lunar talks would be "Lunar Exploration and Advancement in different regions on earth". The MVA team of the South Asia Region would like to invite Regional Coordinators of the MVA Global Network for an immersive panel discussion to exchange knowledge and share insights on Lunar exploration in their regions
Speaker 1
Sunny Kabrawala is a space enthusiast who aspires to make space accessible and extremely affordable for everyone. He realized his passion for space at a very young age of 10 years. Since childhood, he aspired to be a space pioneer and contribute to space industry. He was an ordinary student with an average academic performance. He failed in Physics in 11th grade and scored about 42% in 12th grade. Due to his below average score, he could not pursue his Bachelors in Aerospace Engineering. Sunny Kabrawala is an Electronics Engineer by qualification.
At the age of 19 years, he founded India's 1st Rocket Club named STAR which later on got transformed into an aerospace startup. STAR is an aerospace startup that aspires to make space accessible for everyone by providing space launch services and imparting space education to young minds. STAR has launched 30+ low altitude high powered rockets and is currently developing India's 1st reusable sounding rocket that can carry 20 kilograms to the altitude of 120 kilometres.
Through STAR, Sunny Kabrawala has imparted space education and trained 12,000+ students across the globe. He has also delivered talks on various platforms such as TEDxSurat, Josh Talks, Yugaantar, Goa IT Policy Day, and many entrepreneurship conclaves.
Sunny Kabrawala firmly believes that the next generation of scientists, engineers, sports people, politicians, artists, and entrepreneurs are currently sitting in the classrooms. The way we nurture them is the way they will nurture our planet.
Speaker 2
Yumna Majeed is a Medical Lab Technologist and a Space Educator, working to create space awareness among Pakistani students since 2016. She founded Exploration, a space-edu based organisation to bring wonders of cosmos to the classrooms. Through this platform, she has conducted more than 80 sessions in different schools, reaching out to more than 9500 kids and inspiring hundreds of them via digital and television media. In 2021, Yumna was selected as SDG #5, Gender equality representative in the Space sector by the United Nations Office of Outer Space Affairs. She has been awarded Diana Award 2021 and Pride of Pakistan 2022 for her efforts but she believes her real achievement is the impact she has been able to create among students.
ISRO-MVA Video competition Award Ceremony – August 1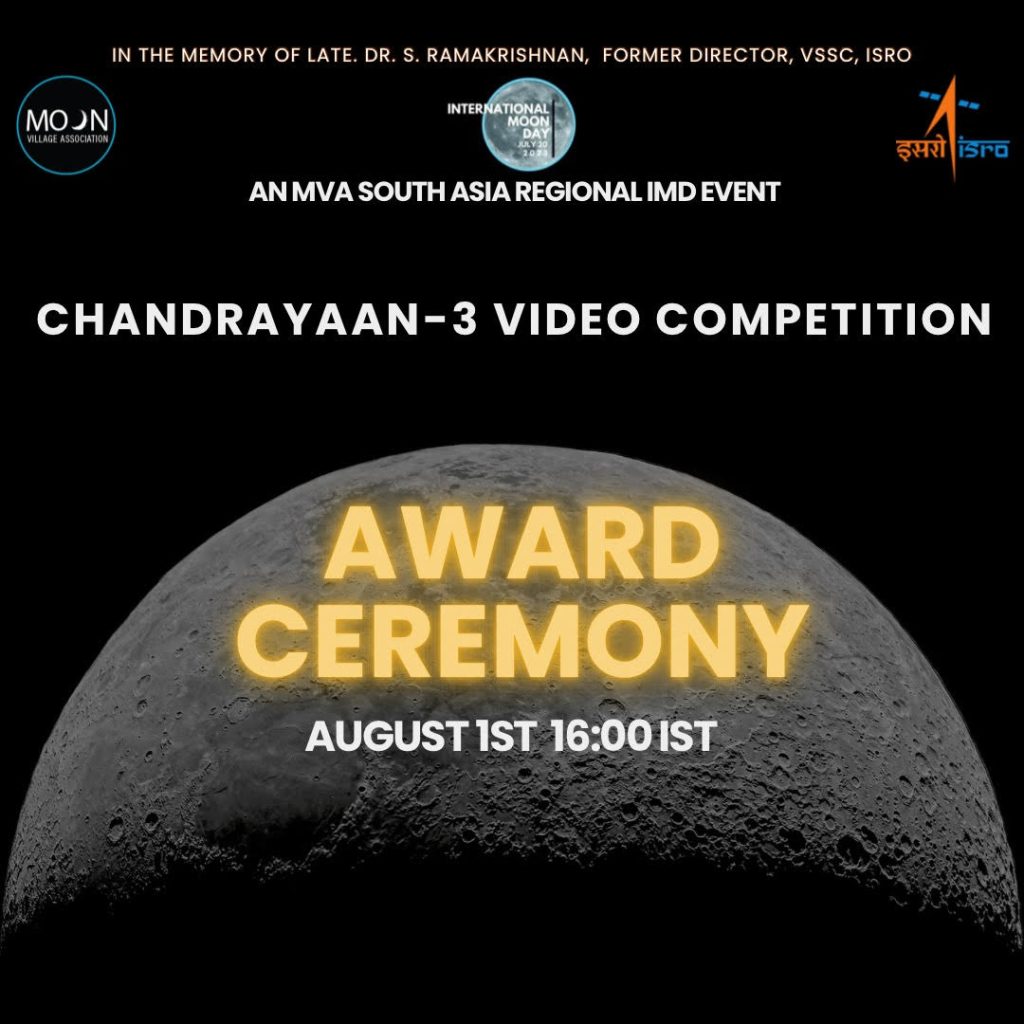 Join us on August 1st at 16:00 IST to honor the winners of the ISRO-MVA Video Competition
MVA-ISRO Chandrayaan 3 video competition was organised in the memory of late Dr S. Ramakrishnan Former Director of VSSC, ISRO
The team has put together an Award Ceremony as part of the South Asia Regional IMD event on 1st August 2023 at 16:00 pm IST
Recording to be available soon.
The agenda of the ceremony would be as follows:
Speech ISRO Director CBPO Mr Sudheer Kumar N.
Speech MVA president Mr Giuseppe Reibaldi
Annoucement of winners by MVA Outreach Coordinator Pavithra Manghaipathy
Video broadcasting of Category
A winners Video broadcasting of Category B winners
Thank you Speech by MVA South Asia Regional Coordinator Nidhi Vasaikar